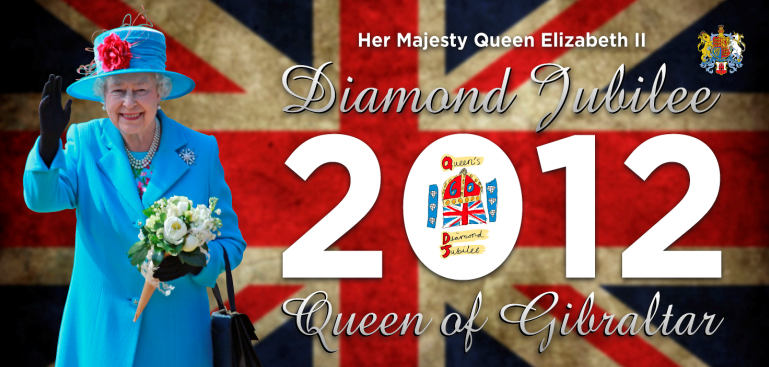 The Queen's Jubilee marks an extraordinary achievement by Her Majesty. It is her Jubilee Anniversary as Queen, not only of the United Kingdom of Great Britain and Northern Ireland, but also of her other Realms, including Gibraltar of which she is Queen.
The Gibraltarians, privileged to have her as our Queen, have joined in the international celebrations of the Diamond Jubilee with drama festivals, street parties, concerts and, as a highlight, will be welcoming the Earl and Countess of Wessex to Gibraltar in representation of Her Majesty. Many local organisations have celebrated in different ways. Some events are still scheduled to take place during the months of June and July.
In the leading up to the Diamond Jubilee Celebrations, British Taekwondo Gibraltar held it's 10th Junior Kyorugi and 8th Junior Poomsae National Championships back on Friday 25th May 2012, in commemoration of this special occasion.
Approximately over 60 members took part in the event, in different categories, and was successfully conducted by Masters Edward & Ernest Garcia 5th Dan.
Every participant/instructor/helper received a commemorative medal sponsored by the Gibraltar Government. These were presented by The Hon Paul Balban, whom we had the privilege of sharing the event with. Masters Edward and Ernest Garcia on behalf of British Taekwondo Gibraltar presented Mr. Balban with a crystal Rock of Gibraltar and a polo shirt.

Both Masters Edward and Ernest Garcia are extremely delighted with the outstanding performance of their pupils at the Championships.
As part of our continued support towards the local community, The Chief Minister of Gibraltar, The Hon Fabian Picardo has invited Master Ernest Garcia to a reception being held on the occasion of the visit of Their Royal Highnesses The Earl & Countess of Wessex to Gibraltar.
British Taekwondo Gibraltar would like to take this opportunity to give a big thank you to all the instructors for their dedication and time spent preparing their members for the Championships, to the GSLA for their help with the facilities at the Stadium, to the Gibraltar Government for the lovely trophies & medals provided and to anyone who helped with the preparation and on the actual day of the event.
Please click here to view the corresponding images in the Gallery.